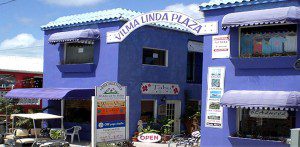 SEAduced by Belize is a locally owned family run business. Elito was born and raised in San Pedro and has been a tour guide for more than 20 years. His wife Rebecca is originally from New Mexico, but moved to Belize in 1993. Together they started SEAduced 15 years ago. Their aim is to provide each and every one of their guests with memorable adventures while they maintain the highest standards to protect the environment. Together they attend to every detail of their tours. Elito or one of their local licensed guides, Sylvin, Ricky, Manuel, Sylvin (yohoo) or Giovanni, will show the splendor of their country, share their knowledge of the history and provide entertainment when you join them on their adventures.
Rebecca runs their office in the Vilma Linda Plaza and prepares all of the food for the trips. She and Kim are always happy to answer your questions and help you plan all of your activities. Finally, they pride themselves in professional, knowledgeable and friendly service. Please feel free to contact them with any inquiries about their beautiful island, accommodations or any of their tours.
A Message from Elito and Rebecca
SEAduced is not just a job or a business, but a life for us. Each and every one of our staff members is like family to us; we pride ourselves in our work together. We feel that it is important to maintain our high standards in providing quality and informative tours.
We also feel strongly about protecting our environment for future generations to appreciate and enjoy. Our hope and goal is that our children Dylan and Alyssa, the children of our staff and future generations will have the same respect and appreciation for their native Belize. Finally we hope that through our business practices, future generations of visitors will have the desire and opportunity to experience Belize.
Join the Adventure!